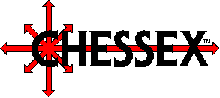 All About Chessex Dice
A leading dice manufacturer, you've likely seen Chessex dice in local toy stores and game stores in your neck of the woods. The company makes a wide variety of high quality dice. They create new colors each year and manufacture standard 6-sided dice along with 8-sided, 10-sided, 12-sided and more.
You can view the current inventory of Chessex Dice on their web site. If you choose, you can even buy dice directly from them too. Their Pound of Dice is a popular seller. That's a lot of dice!
Web site:
Chessex Products:
Dice - Polyhedral, speciality and custom
Dice Accessories - Dice cups, bags
Chess Sets and Mats
Games and Accessories - glass gaming stones
Where to buy:
1. Chessex Web Site
2. Gamer's Attic Web Site
3. Chessex on Amazon
Contact Info:
Email: Contact@chessex.com
Call (888) CHESSEX or (888) 243-7739

Between 9:00-11:30am Central Standard Time or 2:00-5:00 pm Eastern Time.
For additional options and information, Visit their Customer Service page.
Mailing Address:
Chessex Manufacturing LLC
PO Box 80255
Fort Wayne, IN 46898-0255

Dice on Display

Chessex Black Nebula Dice
---
Return to Dice Manufacturers Page