Dice Card Games
Dice card games create a fun, challenging game experience. Winning a game requires both luck and strategy. Imaginative rules and scenarios add to the fun, making these games enjoyable to play again and again.
Delivering board game fun without the board, these dice card games can be played anywhere, anytime.
Munchkin delivers big entertainment. Don't let its small name fool you. With names like "Horny Helmet and "Boots of Butt-Kicking", the game plays fast and creates a lot of fun and mischief.
After all, who doesn't like killing monsters and getting their hands on some magical tools? Play it and discover a new favorite game.
Keep your bunnies alive as you embark on a quest for the Magic Carrot! The game is played with cards and 12 sided dice. While bunnies conjour up kid-friendly images, the game serves up a large dose of dark humor as bunnies get whacked. Given the dark adult humor, this is one of those dice card games best suited for anyone older than 12.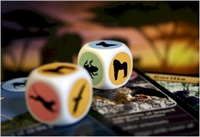 Wildlife Rescue succeeds at creating a compelling game that also draws attention to the plight of 8 endangered animals from around the world. The dice themselves show images of these animals instead of numbers. The cards contain stunning photographs of the animals along with facts about their habitat, characteristics and endangered status. The game is equal parts entertaining and educational.
Each player acts as a conservation officer intent on collecting endangered species. Rolling 3 of a kind allows a player to collect a wildlife card for that species. Each species card contains a different point value. To win, a player needs to collect the highest scoring hand of wildlife cards. "Zoo Collection" cards and "zoo transfer" cards add strategy to the game, with players able to earn bonus points or take a species card from another opponent.
Dice Maestro's web site offers great info on game tactics and strategy along with PDF files for advanced rules and FAQs.
The game itself includes 6 endangered species dice and 30 playing cards. Dice Maestro proudly donates to the Arkive organization, dedicated to collecting information and images on the world's endangered species.
I've bought this game myself and look forward to playing it with my children when they get older.
In the interest of promoting awareness of endangered species, I'll list the 8 species used in the game along with links for more information:


Harlequin Mantella Frog
Rodrigues Flying Fox (Fruit Bat)
Javan Rhinoceros
Amur Leopard
Mountain Gorilla
California Condor
Dama Gazelle
Ceylon Rose Butterfly
Get ready to rumble with a dinosaur dice combat game. A 2009 Award Winner from Toy Talk, Jurassic Wars dice card game features 20 dinosaurs (10 carnivores, 10 herbivores) on "dinocards" with excellent computer graphics, 10 combat cards and 7 combat dice that display "hit points" during the game.
Dice Maestro's dice card games web site offers free PDF downloads of rule variations and probability tables too.
Knights
In Knights Game of Cards and Dice, you are a noble knight intent on building glorious castles in the kingdom. With 3 ways to win, you need to pick the best strategy and hope for a bit of luck. You can acquire special abilities through cards or try capturing an opponent's card to make their life difficult.
You'll have fun trying to win and the game but even the best strategy will fail without a little help from the dice!
Sushi Roll!
Take 4 sushi dice and become a sushi chef in Sushi Roll! The other players try to match their cards to the sushi dice as rolled by the chef. Uni, udon, wasabi and sake are not included.
Wazabi
The game of Wazabi takes 5 minutes to learn yet provides hours of fun. Dice and cards mix together to create an original, addictive game. The fewer dice you have, the harder it will be to get rid of them. And, the cards you play are based on the dice you can roll.
Scary Tales
The "Scary Tales" dice card games puts a creative spin on classic fairy tale characters like Little Red Riding Hood, Snow White, Pinocchio and more.
Each version features 2 fairy tale characters battling against each other. The game contains 55 playing cards and custom dice. A two player game can be completed in about 20 minutes.

Little Red vs. Pinocchio
Go Wacky! Dice Card Game
88 cards, 6 dice and 1 battle to see who can collect the most cards. The goal is to match up patterns and colors to acquire cards. However, the fast pace of the Go Wacky! cards and dice game
may create some wacky results. Game on!
One More Thing...
Would you be interested in a deck of dice cards? Yes, there's a deck of 36 cards - one card for each possible combination resulting from the roll of a pair of dice. These dice cards can add a whole new twist on card and dice games.
I've heard of people using this deck with the Settlers of Catan game instead of dice. You could devise a new game with them or use them to better understand probability and odds.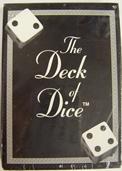 Dice on Display

Munchkin Dice
---