All About the Dice Costume
A dice costume can involve dressing up in a cardboard box or using dice to create a different persona. Hats, glasses necklaces and other accessories will transform you into Lady Luck, a High Roller or a Gambling Fool or Lucky the Clown. If you're a do-it-yourselfer, follow these how to make a dice costume instructions.
Sometimes the best costume ideas build upon a single costume item. For example, take a red dice hat, add some clown makeup, a little imagination and you can be a Gambling Fool. There's also a silver sequin dice hat if that fits into your costume design plans: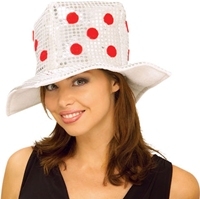 Silver Sequin Costume Dice Hat
Finally, there's a stylish casino themed dress with dice for adults that would work well with a Lady Luck or Las Vegas Vixen costume concept.
Dice glasses provide a great focal point for a costume too. There's a few fun varieties of costume sunglasses out there to choose:

Red Dice Sunglasses


And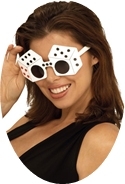 White Costume Glasses
If your costume involves beads or necklaces, how about trying some light up Mardi Gras dice beads? Pink dice beads are also a good choice:



Pink Dice Beads


A mini dice necklace
or dice Mardi Gras beads
can also complete the look of a costume for you.
Interested in a complete costume? "Lady Luck" makes a stylish and fun costume choice:


Lady Luck Adult Costume
If Lady Luck should need a costume for her canine companion, there's a lucky dog pet costume
too!
Paying attention to details makes costumes fun. With that in mind, let's not forget about shoes! There are great dice shoes for men and women. Women can finish off a dice themed costume in style with white sandals that feature a dice stiletto heel and a clear sole with dice and poker chips inside.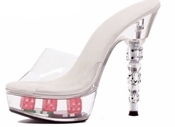 Men can also wear fun dice shoes to add flair to any costume. These platform dice shoes for men have a 3 inch heel with dice inside.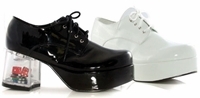 I'd also suggest reading about homemade costumes for kids that cost about $10 to make.
While you're wearing a dice costume, why not play a dice game? In this case, Spirit Halloween offers a game for adults of drinking age. The Devil's Dice Game
involves both kinds of spirits, so be sure to have fun and be safe (don't drink and drive).
Dice on Display

Red Dragon Dice
---