Fun to Say and Play: Farkle Dice Game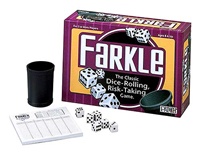 Test your luck in the wildly entertaining Farkle dice game. Do you go for the big points or pass the dice to your opponent? The game is also known as Farkel. Like Yahtzee is the commercial version of the dice game Yacht, Farkle is a commercial version of the 10000 dice game.
I think the folks in marketing discovered that "Farkle" is a delightful word to say. I can't help but smile when I say it, so that must be a good thing. To me, it sounds like a Grandmother's quaint curse word: "Oh Farkle! I've spilled my cup of tea."
In terms of the dice game, to farkle means to fail to score. In other words, to score zero for a turn. Obviously, not the outcome you want on your way to 10,000 points and victory!
Call it Farkle or 10,000. You're talking about the same game. Slight variations in scoring and game play are common. Everyone has their own take on the rules. You'll find my version below and available for quick download.
Basic Rules
The basic 10000 dice game rules apply to Farkle too and typically include the following:
1. Players roll 6 dice to begin and must set aside at least 1 scoring die after each roll.
2. On the first roll, players must score at least 500 before getting the option to stop rolling and keep the points.
3. A player must get scoring dice on each roll...if a player doesn't it is called a "farkle".
4.If a player farkles, he/she loses all accumulated points for that turn and gets a zero on the score sheet.
5. First player to gain at least 10,000 points wins!
You can buy the Farkle dice game to get the official rules plus a nice dice cup and 6 dice to play.
If you're searching for true treasure matey,
trade a few coins for Pirate Farkel dice game:

If you prefer cute animals to snarling Pirates, then the Froggy Farkel Game may be just what you need for family fun.
Similar Rules: 10000 Dice Game
If you already have a cup and dice, the printable 10,000 dice game rules, which includes a scoring summary, can help you teach new players in minutes.
Free printable score sheets are available and can be used for 10,000 or the Farkle dice game, but a pen and paper will work just as well.
More Farkle Fun
If your favorite game makes it onto a t-shirt, you can officially declare it a phenomenon. Well, the Farkle t-shirt has arrived. Let the Farkle Phenomenon begin!
Farkle can be a great game at family gatherings or parties with friends. Here's a Farkel Party Tin containing all the dice and cups you need, perfect for any occasion:
May I Recommend...?
If you like the Farkle dice game, you should also try Shut the Box. It is fun to play, easy to learn and requires a bit of strategy too.
Dice on Display

Purple Ice Swirl Dice
---
Back to the How to Play Dice Page