Score Every Time
with Foreplay Dice
Foreplay dice will spice up your love life. Roll these naughty dice and you'll be giddy with anticipation. After all, everyone wins! It is a fun, safe way to add excitement to your intimate encounters.
All of these adult dice games inject some playfulness and random fun into a couple's love life. Roll some dice to add some spice to your regular romance.
The Spicy Dice game builds up anticipation among the players because only a certain combination on the dice allow you to fully enjoy yourselves.
Are you ready to play? With one 'action' die and one 'body part' die, these love dice spark your imagination. Of course, it only makes sense that these erotic foreplay dice glow in the dark too! How else can you see them when the lights go out?
Try playing the Sex Shakers Dice Game
for a completely random adventure in the bedroom. Each shaker contains dice with different instructions. Roll one from each shaker and see what fun is in store for you.
Lights out? That's not a problem if you've got these glow in the dark s and m dice to play with.
Most people have heard of strip poker, but how about strip dice? Well, there's a stripping dice game and a strip poker dice
game available. Either game will have you and your partner shedding clothing faster than a summer heatwave. With pictures of clothes on each side of the die, there's no doubt what article of clothing you're required to remove next. Perhaps these should be called sex dice instead?
Hot and Spicy Dice offer couples some night time fun too.

HOT AND SPICY DICE
If you can't wait for a game with custom love dice, you can play strip dice with standard dice. Just raid your Monopoly game for a pair. The rules for Mafia Liar's Dice will work well.
Occasionally, there's no time for strip dice. You need sex dice. Now. There are sex dice with pictures on them to instruct you. Roll them once and you can get busy.
If you're seeking sexy fun with other consenting adults, then Truth, Dare or Damnation dice are an intriguing choice. You may also find playing with dirty dice makes a memorable evening.

Dirty Dice
Here's another fun game to play at parties, adults only of course. The I've Never Party Dice
game will have folks laughing and blushing at the same time. If you're planning a party, Chugs Dice
offer a good way for guests to relax and have some fun (no drinking and driving, of course).
Of course, if you're having a party for only two, then you'll need a different game. Here's a good one to try: Mystery Sex Heart, 20-Sided Sexual and Romantic Dice Game
.
Boredom happens, but dice can be a cure. You can play with the Let's Fool Around Dice with your girlfriend, boyfriend or best friend with benefits.

LETS FOOL AROUND DICE
The Rainbow paradice game
includes two dice, one with pictures and one with locations. Roll them together and you'll have some fun.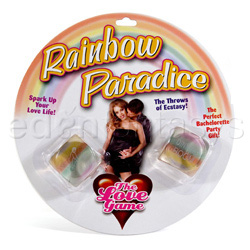 The dice described above pull no punches. They're bold, direct and raunchy fun. If you want more romance and less raunch, pick up some tamer foreplay dice. Try jumbo fantasy dice for late night mischief.

JUMBO FANTASY DICE
Finally, chocolate makes everything better, even foreplay dice. For a sweet treat, take a look at the chocolate lover's dice
game. You can have fun and enjoy a late night snack.
Dice on Display

Purple and Gold Lustrous Dice
---