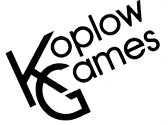 All About Koplow Dice
Koplow dice are manufactured by the "Nice Dice Company", also known as Koplow Games. The Koplow dice inventory includes novelty dice, multi-sided dice, foam dice, jumbo and mini dice. They also sell dice games, jewelry and accessories. However, they do not sell directly to the public. You can purchase their dice from a toy store, hobby store or online retailer.
Web site:
Koplow Products:
Dice - 1200 types of polyhedral,novelty,custom,educational
Dice Accessories - Dice cups, bags, jewelry, gaming stones
Games - 50 different family and gambling dice games
Where to buy:
1. Uncle's Games Web Site
2. Gamer's Attic Web Site
3. Koplow Games on Amazon
Contact Info:
Email: info@koplowgames.com
Phone: 617-482-4011

For additional options and information, Visit their Contact Us page.
Mailing Address:
Koplow Games
369 Congress St.
Boston, MA 02210
Dice on Display

Color Gem Dice Set
---
Back to the Dice Manufacturers Page