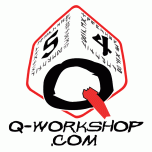 The Q-Workshop Dice
Manufacturer
If you want to see examples of dice as art, look for Q-Workshop dice. Designed for role playing games (rpg) and fans of RPG, these eye-pleasing dice enhance the gaming experience for dice fans around the world.
Based in Poland, the dice manufacturer is a proud member of the Game Manufacturer's Association (GAMA). Their dice are highly regarded by customers and the company has received plenty of positive media attention as a result. You can read about Q-workshop dice in the news.
Their 2010 dice catalog has been posted on their site too. One of the highlights: New Pirate Dice coming in March!
The company happily works with artists and individuals interested in designing their own dice. Q-workshop will create custom dice engraved on all sides for a reasonable price. Here's an example of their custom dice.
Web site: Q-workshop.com
Products:
Role playing dice: elven, runic, dragon, skull, Earthdawn, battle, World War II, nuke and more.
Custom dice: Designed to your artistic vision.
Accessories: Dice bags and dice cups with graphics to compliment the different types of role playing dice.
Where to buy:
1. Q-workshop.com
2. RPG Shop
3. Amazon.com (search for q-workshop)
Contact Info:
Email: Shop@Q-workshop
Phone: (914) 613-3423 or +48 601 319 710

Dice on Display

Q Workshop Elvish Dice Set
---
Back to the Dice Manufacturers Page